Medlemsmøte 18. oktober 2023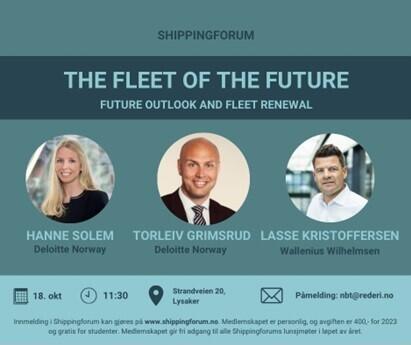 The fleet of the Future - Future outlook and fleet renewal.
 
"The Fleet of the Future - Future outlook and Fleet renewal" with Hanne Solem. She leads the ESG Strategy & Transformation Team in Deloitte Norway and EMEA, and works at the intersection between sustainability, strategy and business development. Hanne assists Norwegian and international businesses in the transition to become more sustainable. She gave us a "temparature check" on the decarbonisation of shipping, and shared perspectives on fleet renewal and future prospects.
Torleiv Grimsrud is Director in Deloitte's Climate & Sustainability Team. He has background from risk management in Gard and has managed projects and working groups related to climate-related risks and opportunities, and energy transitions in shipping and offshore sectors. He also has experience from DNV and has managed and contributed in projects/research within environmental technology, sustainability, carbon- and climate risks, energy outlooks, transition scenarios, and financial modelling - including The Transition Outlook reports, and has been a reviewer for the IPCC.
Lasse Kristoffersen  assumed the role of President and CEO at Wallenius Wilhelmsen on June 1, 2022. Prior he led Torvald Klaveness for 15 years, becoming its first non-family CEO. A prominent figure in maritime, he shaped industry discourse and served as President of the Norwegian Shipowners' Association (2018-2020), driving decarbonization and digitization strategies. Earlier, he spent 11 years at DNV, including a stint in New York launching Maritime Solutions Americas. Kristoffersen holds a Master's in Naval Architecture and Marine Engineering, complemented by executive programs at IMD and INSEAD
Møtet avholdes i Wilh. Wilhelmsens lokaler på Lysaker.
Oppdatert: 31. oktober 2023